Commercial Real Estate SEsrvices
81 On Seventh is a four (4) story office building consisting of 47,086 square feet (excluding lower level) in the heart of downtown St. Paul.
SPACE AVAILABILITY
(Click to View Suites with Floor Plans)
Suite 100  – 4,650 RSF
Suite 150  – 4,550 RSF
Suite 200 – 13,062 RSF
Suite 300 – 13,101 RSF
Suite 400 – 6,066 RSF (Plug & Play)
Suite 450 – 4,875 RSF
Suite LL1  – 5,749 RSF
Suite LL2 – 4,061 RSF
For further information, please contact Commerical Real Estate Services, Inc. at (651) 290-8890.
Historical Features
Recently restored inside and out, all the personality of this 1907 building has been preserved. It is constructed on a limestone foundation with:
Heavy timber
Douglas-fir columns, beams and joists
High ceilings
Exposed brickwork
Tin stamped ceilings
Wood floors
Wide showroom windows
Exterior brick
Balconies on 3rd and 4th floor
Modern Facilities
Electrical wiring, plumbing, HVAC—it's all brand new. The elevators, stairwells and restrooms have been replaced, too. New double-hung windows, trimmed in copper and Douglas-fir, are energy efficient and fully operable. A high-speed fiber network services the building. In addition, the building is connected to the State of Minnesota's fiber system.
Environmentally Conscious
From new energy-efficient windows to salvaged construction materials, 81 On Seventh utilizes sustainable practices.
Building Materials Reuse (PDF)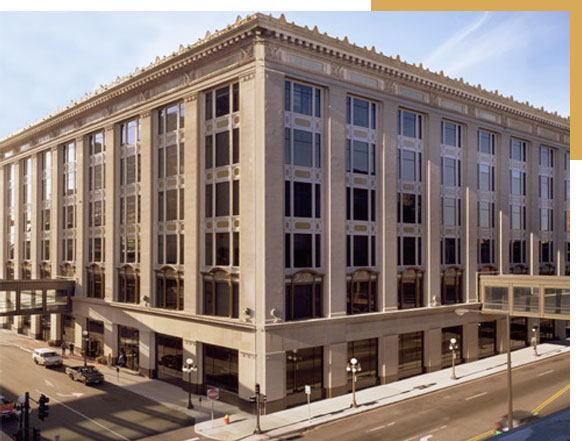 81 On Seventh was constructed in 1907 by E.J. Phelps, a local entrepreneur and public art advocate. Soon after the last brick was laid, Phelps sold to The Golden Rule Department Store across the street. The Golden Rule used 81 On Seventh as a showroom and storage facility until the 1930s.
When the Borg and Powers Furniture Company moved into 81 On Seventh, they added fourth floor and second floor showroom windows. In the 1970s, the Northern Furniture Company took over the building. They remained a downtown fixture until 2002, when ownership changed hands again, to HFS Properties.
As the building approached its one-hundredth birthday, the new owners began restoration for the building with:
Refinishing floors, beams and brickwork
Restoring the original tin stamped ceilings
Adding energy efficient windows with historic style
Installing all new electrical, plumbing, HVAC systems, and elevators
Updating technologies such as fiber, in addition the building is connected to the State of Minnesota's fiber system